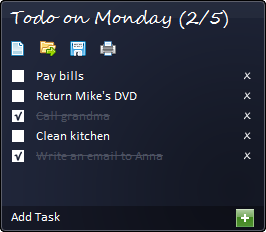 My To-Do List is a Windows Gadget specifically designed for Windows 7 (Or Windows Vista.) It can be placed on the side of your screen for simple accessing. What the gadget does is as simple as its name. It's a to-do list. If you don't have Microsoft Office, or another organizer on your computer, this gadget is just the thing you need so you won't forget your appointments, paying the bills or putting the garbage outside.
The interface is really easy. You can add a new todo with one click. Editing one costs you one click more. If you want to prioritize them, you can simply drag and drop them somewhere else. If you've done your item on the list, you can check them off so that way you now you've done it. It's also nice to see if you see the checked off list grow, in stead of seeing the unchecked list grow.
A lot of people are on the road, or not always behind their computer. So they need a way to carry their todo's with them. With this gadget you can print your list so you have your reminders close to you, even when you're away from keyboard.
Go totodo to get more info and download